Yesterday I put the disc on the tractor to work a patch of ground in preparation to plant a small apple orchard. I've been preparing this spot for a year. First there was seeding with clover to break up the clay and add nitrogen. Then I mulched the entire area with cardboard, added 13 yards of topsoil, and added the chipped up wood from yaupon, small pines, and oak saplings . I piled on many, many bags of leaf litter which were donated by a neighbor who does landscape maintenance for the town of Mandeville. This recipe of biomass fermented, like a good wine, or sourdough, until it was time to disc it into the clay to make it ready for the young apples.
The smell of freshly turned soil is one of natures gifts. I had to occasionally stop to rescue fat toads as they tried to hop out of the tractor's way, or remove large chunks of wood and dog toys. I discovered that this small field is where my pirate dog hides her treasure. Each time I stepped out I was met with the earthy, mineral smell of healthy soil.
I purchased these trees from Mehrabyan Nursery. Their nursery is a sweet spot where price, quality, and selection meet. The owner is happy to answer your questions and their website is full of how-to resources.
Trees feed us, supply building material, offer shelter and shade, and their beauty is food for the soul. There is so much meditation in a new orchard, so much promise in trees that can outlive us before they are returned to the earth. I recently came across a beautiful eulogy trees that appeared in the April edition of "American Fruit Grower" magazine. It was a timely and appropriate rumination for planting new trees. The eulogy was written by Claire Kauffman, a pear and apple farmer in Pennsylvania. It captures some of wonder of the tree and the land that nurtures them. The eulogy follows but the full story by Thomas Skernivits can be found here.
Eulogy for the Apple Trees
Hear a eulogy for the trees. The legacy of these trees holds whispers of another way.
The way of generosity, in its purest, most selfless form. Without attachment or negotiation. Giving the best of gifts in spite of less-than-ideal circumstance.
The way of joy-filled being. Not holding on to the inner stories of grievance or complaint or even of wild success. Not chasing the numerous illusions and bobbleheads of the ego — just delighting in being an apple tree, and pouring joy into the great work.
The way of quietness and gentleness, of acceptance for what is. Offering a non-anxious, non-judging presence. A walk in the orchard is always an invitation into the present moment, to be right here, right now.
"If these trees could talk," we say. Yet they do. Their storied lives ask us to pay attention to the earth, to our own stories, and to where our stories meet — in the air we breathe and in the ground beneath our feet.
They ask just to give attention to the past and to the future. Before this work of art, an orchard. A hundred years ago before the orchard, a dairy farm and tobacco land. Before that, our memory fades to the imagination of a forested ridge tended by its first peoples. This spring, at the time this work of art was being made, my son found an arrowhead protruding from a bit of open ground not 100 yards from here. A quiet yet persistent witness to a time when this land offered abundant food of kinds we now either despise or forget and was home to people to whom we've done the same.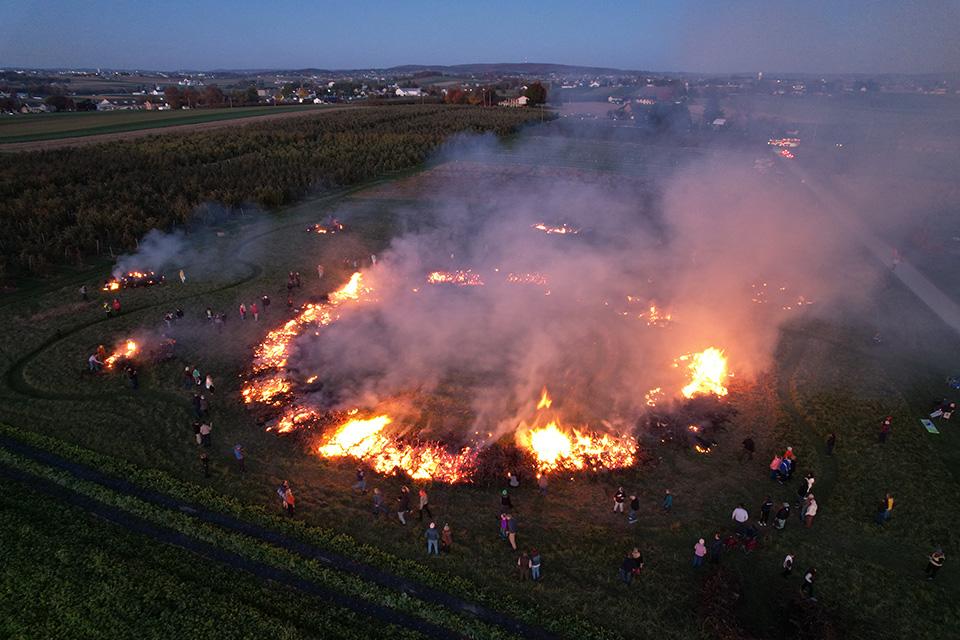 Photo courtesy of Kauffman Orchards
The stories quietly held by the land and the trees tell of life, and also death. Of freedom and wildness, and also of captivity and domestication. Of joy and flourishing, and also of grief and brokenness. It's our story too, this paradox in the land and trees.
And what stories will be told 100 years from now? And how will the stories of the land and the trees be ours also? Will we have learned to live at peace with ourselves and with the land and what it requires of us? Or will we have been so slow to learn that this land finally becomes a mere witness to the manifest failures of industrial farming?
If these trees have a dying wish, I think it is this. Stay and listen. Wait a while. Give full attention inward and outward. Learn their way. Never forget their life, their joy, their stories, their legacy. Until patience has her perfect way with you and yields in you the fruit of wisdom.
— Clair Kauffman